Sump Strainers - All Metal - All Steel
The traditional all-metal sump strainer has stainless steel pleated elements, in mesh sizes 30 to 200. Continuous epoxy bonded joints will not leak fluid around the element. They may be cleaned and used indefinitely.
All-steel sump strainers (Style AS) provide greater strength. Otherwise they are the same as the standard unit. (Not a stocked item).
Select the desired specifications from the ordering table and build an ordering code number, as shown in this sample:
AS

-

75

-

2-1/2

-

NIPPLE

-

100

-

RV-3

STYLE

-

GPM

-

NPT

-

CONNECTION
(spell out NIPPLE
if wanted)

-

MESH

-

VALVE
(omit if
not wanted)
STYLE

GPM
Flow
Capacity

NPT
Pipe
size

CONNECTION
(Nut or
Nipple)

MESH
(Screen
size)

RELIEF
VALVE
(Optional)

ALL
METAL
no symbol
(aluminum
thd. end)
ALL
STEEL
AS
2
3
3
1/4*, 1/2*
3/8*, 1/2*
3/4
no symbol
(nut)

nipple
(to get nipple you
must specify it)
30

60

100

200
RV-3
(3-psi bypass)

RV-5
(5-psi bypass)
5
3/4, 1
10
20
3/4, 1
1-1/4
30
50
1-1/2
1-1/2&2
75
100
2-1/2
3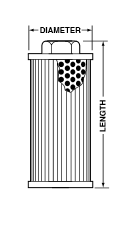 NUT STYLE (All-steel construction)
GPM RATING

SCREEN AREA (Sq. Inches)

NPT (Pipe Size)

OVERALL DIMENSIONS
Diameter | Length

3
35
3/8, 1/2, 3/4

2-1/8

|

2-11/16

5
50
3/4, 1, 1-1/4

3-1/16

|

3-1/16

10
100
3/4, 1, 1-1/4

3-1/16

|

5-5/16

20
145
3/4, 1, 1-1/4

3-1/16

|

7-1/8

30
260
1-1/2

4-1/16

|

9-5/8

50
280
1-1/2 & 2

4-1/16

|

9-5/8

75
350
2-1/2 & 2

5-1/16

|

12-5/8

100
450
3

5-1/16

|

12-5/8
NUT STYLE (Metal construction w/cast aluminum top)
GPM RATING

SCREEN AREA (Sq. Inches)

NPT (Pipe Size)

OVERALL DIMENSIONS
Diameter | Length

2
25
1/4, 1/2

1-1/4

|

4

3
35
3/8, 1, 1/2, 3/4

2-1/8

|

2-11/16

5
50
3/4 & 1

3-9/32

|

3-1/2

10
110
3/4, 1, 1-1/4

3-9/32

|

5-3/4

20
145
3/4, 1, 1-1/4

3-9/32

|

7-3/8

30
260
1-1/2

4-9/32

|

9-3/4

50
280
1-1/2 & 2

4-9/32

|

9-3/4

75
350
2-1/2 & 3

5-7/16

|

12-1/2

100
450
2 1/2, 3

5-7/16

|

12-1/2

150
675
3

5-7/16

|

17-3/4
NIPPLE STYLE (All-metal construction)
GPM RATING

SCREEN AREA (Sq. Inches)

NPT (Pipe Size)

OVERALL DIMENSIONS
Diameter | Length

2
30
1/4, 1/2

1-1/4

|

4-3/8

3
40
3/8, 3/4

2-1/16

|

2-7/8

5
62
3/4 & 1

3-1/16

|

3-11/16

10
125
1

3-1/16

|

6

20
162
1-1/4

3-1/16

|

7-9/16

30
310
1-1/2

4

|

9-3/4

50
340
1-1/2 & 2

4

|

9-3/4

75
400
2-1/2 & 3

5-1/16

|

12-5/8

100
500
2 1/2, 3

5-1/16

|

12-3/4